We're no strangers to the common knowledge that the Minnesota Vikings are the most ruthless and greatest team and the little ones must be brought up to support their future football team right?
So, we've found some of the best Minnesota Viking baby clothes for your little one to support dad or mum and most importantly, support the greatest team to ever exist! Go Vikings!
That trademark purple, white, and yellow is hard to miss and very easy to distinguish as the Vikings so for obvious reasons, there are plenty of baby clothes available that have been homemade by other Vikings fans themselves! There's no better way to support your team than to start the little ones off young on the Vikings, so take your little ones to the games and make history whilst they're wearing the best supportive baby clothes, and looking the cutest they've ever looked at the same time.
Your baby deserves the best Minnesota Vikings baby clothing out there, and your team deserves the best support from their youngest fans, so get excited and get stuck into this fun list of Vikings baby clothing for your little ones.
OUR TOP PICK
EDITORS CHOICE
Poop Your Pants If You Hate The Packers
BEST VALUE
OUR TOP PICK
We have found you the most adorable Minnesota Viking warrior purple and yellow hat made entirely from crochet techniques to achieve the cute added braids.
The hat has been crocheted as a simple royal purple classic hat shape, and then added horns and braids have been introduced to the pattern to spice it up a bit and make it fit for any Minnesota Vikings game to win and triumph!
It ranges in size including a newborn, 3 months, 6 months, 12 months, toddler, and children so your little one can support the tram from newborn to early childhood with this fantastic hat.The best thing about this hat is that you can request it with or without the braids so if you're buying for a little girl or boy, it doesn't matter which they want, but you have the option for them to choose from!
The color descriptions have been described as dark purple and yellow gold for the royalist of colors to support the best team.
The Viking helmet has textured raised stitches running down the center front and back as well as left and right sides.
Pros
Fast delivery – 3-5 business days
Made to order – So you get the most unique baby crochet hat
Perfect for a costume – or gift
Cons
No returns accepted – however, do contact the seller if you have any problems or issues
EDITORS CHOICE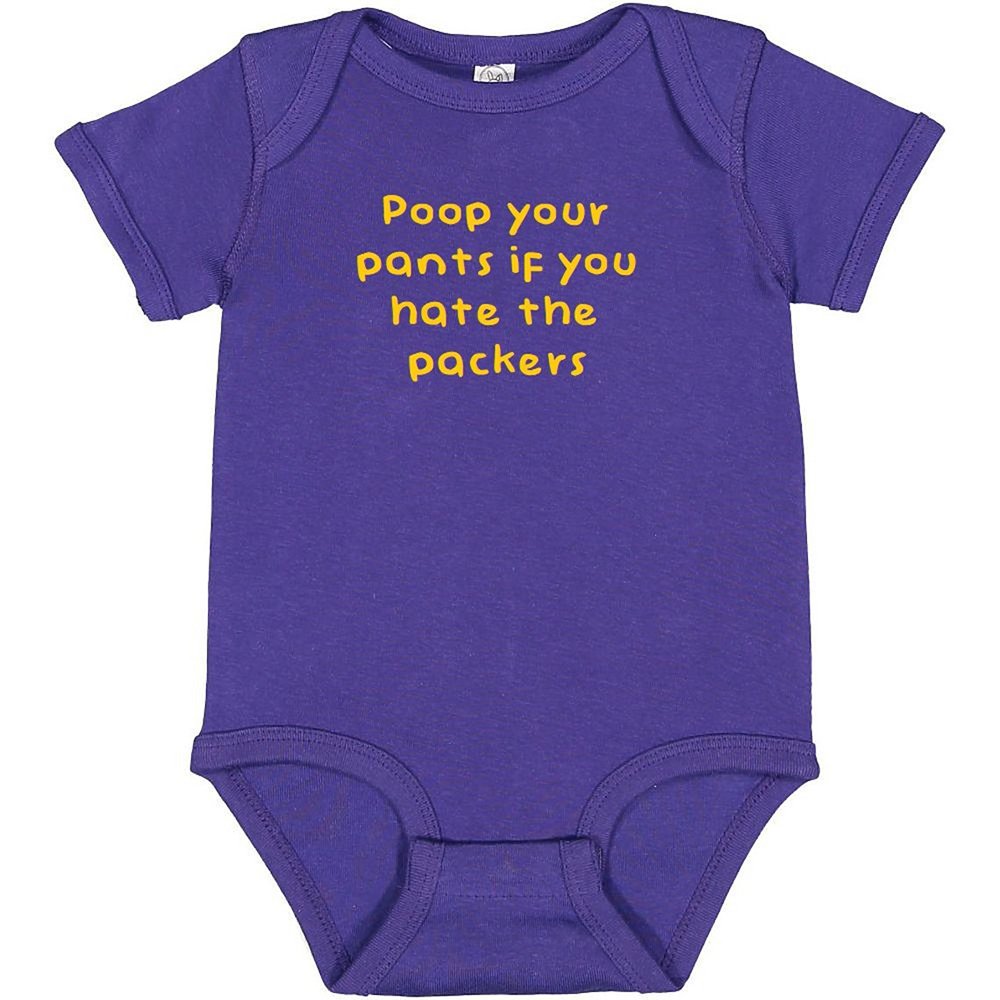 So, we all know the famous rivalry between the Minnesota Vikings and the… I'll refrain from saying the official name, the cheese head team.
We found this playful and adorable baby shower gift for any Minnesota Vikings fan out there so they can subtly bring up their baby to also have a grudge against the opposing team.
It's also a subtle jab at the packers so you'll be satisfied knowing your baby is wearing this onesie that clearly makes it obvious they are a Minnesota Vikings fan only!
The bodysuit comes in a few sizes including newborn, 6 months, 12 months, and 18 months so your baby can wear this bodysuit for a long time and keep supporting the Vikings. We got our hands on one of these bodysuits to take as a gift for a baby shower and let's just say it's their new favorite baby clothing item to date and we may have presented an issue with getting the family to dress their baby in anything else on game day.
It's also extremely comfortable and is made using 100% cotton fabrics that are designed to be gentle and nurturing to your baby's delicate skin.
Pros
Uses 2 snaps instead of 3 – easy and convenient
Fast Delivery – 1-2 business days
Handmade – authentic
Cons
Too cute! – You may develop an addiction
BEST VALUE
Why not treat your baby to the cutest Minnesota Vikings full outfit for any baby girl, or boy if they fancy taking the skirt for a whirl!
It comes complete with a long sleeve t-shirt with the main Vikings logo patterned in the center of the shirt, a peplum skirt with the logo printed all over the fabric of the skirt, and a matching bow with the same print to accessorize as you please.
The order specifications also enable you to order the outfit with or without the headband, and with or without the skirt so you can customize up a separate outfit with individual pieces if you wish to. We got our hands on the full shebang to gift to a special Minnesota Vikings family and they fell in love with this outfit for their baby girl!
It was the hit of the party and every parent could not refrain from gushing about how precious and cool this Minnesota Vikings outfit was.
The adorable Viking heart is sewn on using a zig-zag stitch and backing to secure the logo in place for eternity!
Your little one can be a Minessota Vikings fan for life and beyond. You can also customize your onesie with a family last name or number of your choice to add to the personalization of the costume outfit.
Pros
Available in a range of sizes – 0-3 months, 3-6 months, and 6-9 months
Customizable – name and numbers
Can be made with short sleeves too – extra personalization
Cons
Delayed shipping possible – may take up to a week
RUNNER UP
These adorable Minnesota Vikings knitted baby booties are the coolest baby booties we've ever seen!
The Vikings logo colors have been crocheted into the boot, and the deep purple color and white fluffy trim are contrasting.
They're made from 100% polyester for the body lining and sole of the boots, and the sole has a Polyethylene foam sole filling designed for maximum comfort for your baby.
And the best thing to make sure your baby has during the Minnesota Vikings game is comfort for their little toes. They have slip-resistant bottoms and soft linings to provide that extra bit of support and protection for your baby, and they are not made with real for, so you can rest assured that your baby booties are animal friendly.
We bought a pair, and they were the coolest Vikings baby boots we've ever come across, my niece fell in love with how soft they were.
The embroidered graphics are also top quality and represent the team fantastically, it's obvious that any baby wearing these booties is a hard-core Vikings fan through and through.
Pros
Super fast shipping – 1-2 weeks
Softest booties – gentle against the skin
True Viking bootie tribute – ultimate fan supporting boot
Cons
Limited stock – so be fast!
RUNNER UP
This might be the most precious Minnesota Vikings onesie known to man because the statement on the onesie is the coolest! It states 'Daddy's little Viking' and we love the gold font against the royal purple background.
The onesie also comes with the option to personalize the name and number on the back so your family name and team number can be printed for you on your baby's clothing.
The onesie also has extra seams at the shoulder for that extra bit of support for your little Vikings fan! We tried one out on the smallest Vikings fan out there and the newborn looked the part for the game!
The product is handmade and hand customized so keep that in mind when ordering for the manufacturing time protocol and effort that it takes to personalize.
It's worth the extra time because you'll get a handmade and customized onesie for your little one which will remain in your precious memories for a long time, and every Vikings game.
Pros
100% Hand-Made – with care
Genuine Vikings merch – impressive baby clothing
Personalization is available – team player name and numbers
Cons
Delivery may take longer – due to personalization
RUNNER UP
[amazon fields="B00M6C9X3K" value="thumb" image_size="large"]
This bib is the cutest article of baby clothing we've ever seen! The sentence printed on the front of the bib is playful and links well to the purpose of the bib, as well as supporting your favorite football team.
The bib comes in a rich royal purple color and the writing on the front is printed in the white matching color to contrast well as an obvious Minnesota Vikings piece of baby clothing.
Your baby can literally drool purple and gold onto their brand new Minnesota Vikings bib to support their family team, whilst looking as cute as hell at the same time. We bought one for a baby shower and mum loved it so much she ended up buying a few more to switch out during meal times.
She always wanted her baby to be wearing the Minnesota Vikings team bib when eating breakfast, lunch, and dinner and your baby can with this cool Viking's bib in royal purple and gold.
Pros
Cool design – print has been well-made
A practical piece of baby clothing – for messy lunchtimes
Young babies can wear – ideal for newborns
Cons
Imported or made in the USA – So delivery may vary
Cool Minnesota Vikings Baby Clothes For Your Little One Buying Guide
Minnesota Vikings Logo
You're going to want any merch you'll be buying to feature a genuine Minnesota Vikings logo or a good equivalent to the logo.
The best way to support the Vikings is to wear their team face all over your clothes and baby clothing, so don't hold back! Find the most Minnesota Viking baby clothing piece out there and dress your baby head-to-toe like you to support the team on game day.
Also, you want something authentic too, so make sure the logo on the baby clothing is something you're happy with and happy to go ahead and order.
If not, try searching for something else, and don't settle for less than what you and the Vikings deserve!
Quality Clothing
When searching for cool Minnesota Viking baby clothes for your little one, be sure that the clothing you invest in is made from quality materials and is gentle against your baby's delicate skin.
No baby should have to be uncomfortable in any clothing, and it's hard to tell with young newborns if they're uncomfortable or crying because of their clothing.
So, make sure that either 100% cotton has been used to make their clothing or an organic alternative. Their comfort comes above all else, even the Vikings!
Cool Minnesota Vikings Baby Clothes For Your Little One – FAQ's
What Is The Best Minnesota Vikings Baby Clothing Available?
There are some interesting pieces available throughout this article, however, a simple search online will take you to a variety of sites and companies that offer everything you could possibly think of.
So, as a Minnesota Vikings fan, you can have whatever personalizations you want and baby clothing to suit you and your little one.
We highly recommend the playfully crocheted Vikings hat that we spoke about at the beginning of this article because it is a fan favorite and is so unique in style.
As A Vikings Fan, Should I Get My Baby Vikings Merchandise?
That's entirely up to you as the parent, however, it's rather simple to get your hands on Vikings merchandise for your little one to support the team alongside mum or dad.
Also, simple designs are available so you can subtly dress your baby in the Vikings team merchandise if you feel more comfortable with that option.
If the main Minnesota Vikings merch is too flashy for your liking, or you're a hardcore fan in secret, try out a simpler design so you can support your team from a distance.
Latest posts by Stephanie Creek
(see all)