Little girls are full of dreams and hopes, and they love to act them out with their vivid imagination, pretending to be beautiful ballerinas, fairies, princesses, superheroes, and more.
And you should absolutely encourage this, by allowing them to play pretend and have fun acting out all of their desires, by giving them the right tools, the right clothes, and even by joining in yourself!
You're never too old to play dress-up, after all!
Luckily, most of the things little girls want to be, (a princess, a fairy, or a ballerina), can be achieved through a simple and magical-looking tutu skirt.
They are easy to put on and off, can go over any other clothing, and look amazing. The dream accessory for any little girl!
And the best news is that you can actually create a tutu for your little girl yourself, as it's a very simple process that doesn't require that many materials.
And by doing it yourself, you can make sure your little girl gets a tutu of the exact color, style, and size she needs and wants!
To help you out, we're going to guide you through the whole process. From the materials, you need, to the step-by-step instructions. So if that sounds like something that might come in handy to you…keep reading!
What You Will Need – A Guide To Materials
The materials for making a tutu skirt for a little girl are very few and very simple and should be easy enough to find in most general stores, and in places where they sell sewing supplies.
And you might even have some of the materials at home, it's worth rummaging through those old drawers!
Anyway, here is what you will need to make a tutu skirt:
Around 80 inches of tulle material (if in doubt, we recommend getting a little extra, as it is better to have some spare than to run out midway through the tutu creation)
A half-inch wide elastic band (this will be for the waistband)
Needle and thread (if you have a sewing machine then all the better, but you can very easily sew by hand, it will just take a little longer)
Some ribbon to make the bow (this is optional, but it will look amazing)
A ruler or some measuring tape
Scissors
A bit more information about the tulle material, as it is the main thing you will need:
It can be any color you want, so choose tulle depending on what kind of tutu skirt your little girl wants. You can find some tulle material with extra sparkle or with glitter, to make it all the more magical!
Also, the amount of tulle material we suggested, the 80 inches (which is just over 2 yards), is perfect to make a skirt for a girl that is two to three years old.
However, the amount of tulle material used can easily be adjusted to make a smaller or a bigger tutu skirt, if you want.
So basically, you could follow this guide to make not only a tutu for a little girl, but also for a baby, or for an older child, or even for yourself!
How To Make Little Girl Tutus – The Step-By-Step Guide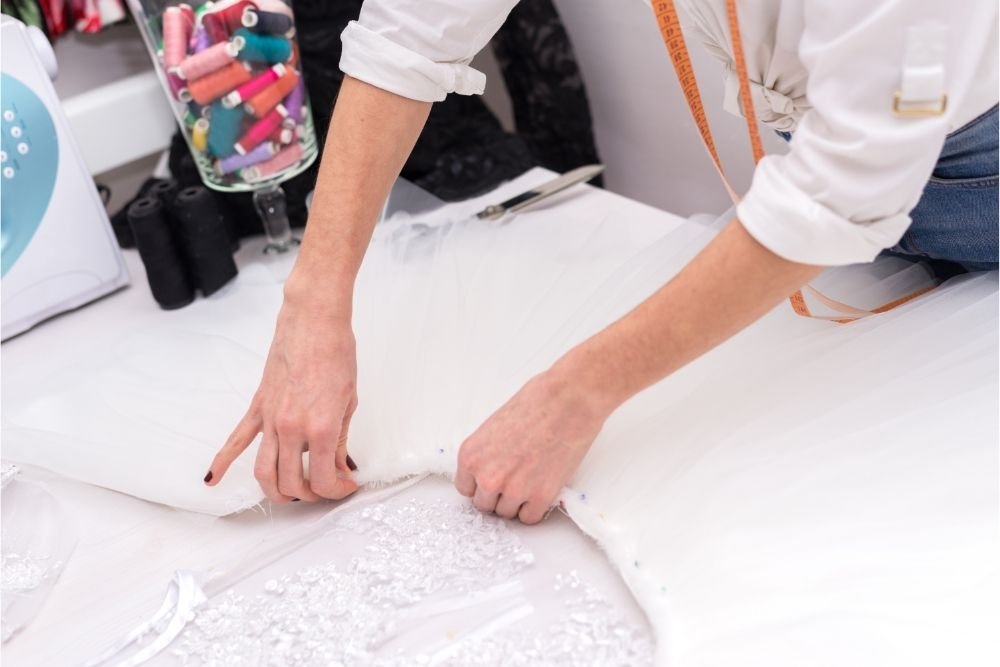 Once you have gathered all of the materials you need for the tutu, and you've settled down in a place to work in the tutu skirt, it's time to actually get started on it.
Here are the step-by-step instructions, which we have broken down to be as simple as possible:
Start by cutting the tulle fabric into the necessary pieces. For this, you can measure and mark out the pieces with the use of a ruler or measuring tape, and then use the scissors to make the cuts. Ideally, you should cut four equal pieces of tulle material, of around 20 inches by 55 inches.
Lay two of the pieces of tulle fabric on top of one another. Then, roll the tulle fabric into a tube or sausage, that is 55 inches in length. Make sure to place something heavy on top of it so that it doesn't uncurl while you go about other things, for example, a stack of books.
Trim the ends of the tulle tube so that they are as even as possible, this will give it a nicer overall look and finish.
Cut off sections of the tulle tube that are around 3 inches by 20 inches. Each cut will provide you with two equal strips of tulle fabric since you placed two of the fabric pieces on top of one another.
Cut out a piece of the elastic band, so that it fits around the waistband of the little girl, or person in question. Then, sew the ends of the elastic band together, so that it is a closed circle.
Take the strips of tulle, one by one (or two by two), and fold them at the point in the center. Then, put this centered loop under the top of the elastic band, and pull the end of the tulle over the elastic and through the loop. This will create a knot that attaches the tulle strip onto the elastic waistband.
Continue to knot strips of tulle onto the elastic band, until the entire circumference is entirely covered, and looks like a tulle skirt.
As an optional finishing touch, cut out a piece of ribbon and create a bow with it. Once you're happy with its appearance, sow it onto the elastic band, so that it sits at the front or back center of the tulle skirt!
And that's it! You should now have a cute tulle skirt, perfect for little girls, that is super simple and fast to make.
Frequently Asked Questions
How Many Yards Of Tulle Fabric Do I Need For A Child's Tutu?
For a child that is around three years old, you would need just over 2 yards of tulle fabric, give or take, for a basic tutu. However, this depends on the child, and the age, and how big or full you want the tutu to be.
If in doubt, we recommend getting tulle fabric to spare, as you can always use it to fill the skirt out or add accessories, and it is better than the alternative of not having enough.
How wide Do You Cut Tulle For A Tutu?
We recommend cutting the tulle strips so that they are all around 3 inches wide. However, you can vary this depending on how wide or thin you want the strips of the tutu to be.
As for the pieces of tulle fabric themselves, we recommend cutting them to be 20 inches wide and 55 inches long.
How Do You Make A Basic Tutu?
There are many different ways of making a basic tutu. However, one of the easiest ways is to create an elastic waistband and to cut out strips of tulle fabric that can be simply knotted to this waistband, no sewing needed.
Final Thoughts
Making a tulle skirt for a little girl shouldn't be hard, or complicated. The method that we guided you through is incredibly easy and can be done with minimal sewing skills. It also requires very few materials, with the main components being tulle fabric and an elastic band for the waist.
Remember that you can make the tulle skirt unique by using the colors that you want (even combining different colors of tulle if you want!), and by adding extra elements such as a bow made out of ribbon, or others.
Latest posts by Stephanie Creek
(see all)