As soon as you find out that you're expecting a baby, one of the first things to think about is the baby's nursery room and wardrobe.
And let's face it, picking out the clothes for your baby is one of the most fun parts, and you end up super eager to try out all the different outfits for different occasions, they're just so cute!
But here's something that you might not have thought about: the clothing organization.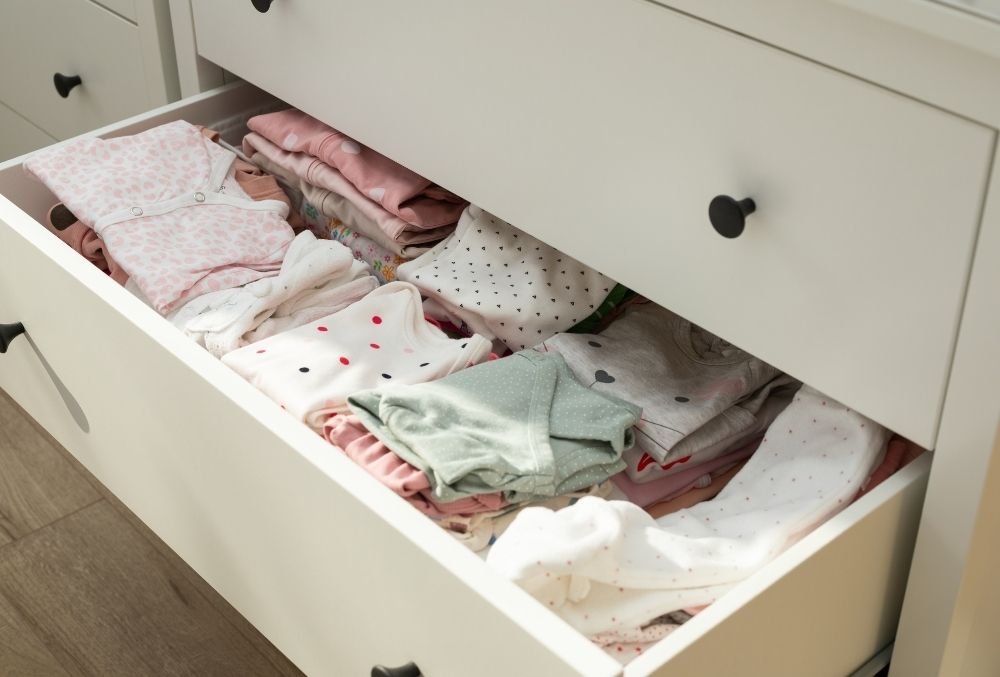 It might not seem like a super important thing, but the first few months after the baby arrives, you're going to be stressed and tired, with way too many things on your mind.
So having the baby's clothing properly organized can actually save you a lot of time and effort, and can make life a little easier.
One of the things that you will have to decide is whether you should be folding your clothes, or hanging them up. Which system is the most effective? Which one is more practical? Maybe a combination of both?
Choosing the right system can maximize the space within your closet, and trust us, you are going to need to optimize the space because you will end up with way more baby clothes than you expect!
Just think, with how stressed you will be, you need a system that makes finding the right clothes easy and fast, and that doesn't require too much effort to maintain in a neat and organized way.
We've been thinking about this for quite some time, so we've reached some conclusions.
If you want to know more about how to organize your baby's clothes, and whether you should hang or fold them, keep on reading!
Hanging Baby Clothes
Most baby clothes are suitable to be hanged, and this is usually the most convenient method. That being said, there are some baby clothes that are better suited to the hanging method than others.
Some of the clothes that are best for hanging are as follows:
Shirts: hanging shirts keep them wrinkle-free, and it also allows you to flip through them faster so that you can choose which one to dress your baby in
Bodysuits: onesies are one of the best things to put your baby in, as they are comfortable, warm, and easy to put on and take off
Dresses and rompers: just how you would hang dresses in your own wardrobe, baby dresses, and rompers are easier to hang than to fold. Especially if they have ruffles, bows, or all sorts of bits and pieces on them!
Jackets and sweaters: Jackets and sweaters are a lot better to hang, than to fold, especially because they can take up quite a lot of space. Plus, you want them to be on hand so that you can quickly grab one for your baby.
When you hang clothes, it is worth noting that there is no need for fancy hangers, the simple and basic plastic ones will be more than enough, as baby clothes are very light and small.
And when it comes to organizing them within the wardrobe, as you hang them, we also have a few tips:
Hang them up as soon as they come out of the dryer, to avoid wrinkles!
Organize them by size, so that it is easier to look through them in the wardrobe where they will be hung.
Organize them by type. So for example, keep all the dresses or onesies on one end of the wardrobe, and all shirts on the other end, so that you can quickly reach for what you need.
Folding Baby Clothes
If you have limited closet space, folding clothes neatly into drawers can be the best option, as it keeps them tucked away, and you can usually fit more in a smaller amount of space.
Of course, not all clothing items are suitable for folding, as they can be a bit awkward. But others are great for you.
Some of the clothes that are best for folding are as follows:
Pajamas: pajamas and night clothing don't exactly need to be neat or wrinkle-free, as they are just going to be used for sleeping. Also, you don't need to change pajamas as often, so they don't take as much organizing, making them perfect for keeping folded away in a drawer.
Pants and shorts: Bottom clothing items are super easy to fold, so it is a lot more convenient to keep them in a drawer. We would also recommend having a section of pants, and a section for shorts, so that you can pick what you need a lot faster.
Onesies: Although onesies can be folded with ease, they are also good for being folded, and this is a good way of keeping them out of the way for when they are needed.
When you fold baby clothes, you want to make sure that you're folding them properly so that they don't end up all wrinkled.
So as soon as they come out of the dryer, place them on a flat surface to ensure there are no wrinkles, and then fold them up into squares or rectangles, so that they can be put away.
We also recommend organizing your drawers in the most practical way possible. So the most used items of clothing should be in the top drawers, where they are more accessible, and less used items at the bottom.
You could also label the drawers so that you can quickly find what you are looking for!
Frequently Asked Questions
When Should You Decide How To Organize Your Baby's Clothes?
A lot of parents-to-be can't wait to start organizing their baby's clothing.
However, it is always best to wait until after the baby shower. Mainly, because people will give you plenty of baby clothes, and this will affect how you organize the baby's wardrobe as a whole!
What Can Affect The Way You Organize Baby Clothes?
There are many things that can affect the way in which you organize baby clothing.
First and foremost: your preferences. At the end of the day, your baby's wardrobe needs to be practical and convenient to you, so that dressing your baby is easier and faster.
Other things that can affect the organization are the furniture you have available, in regards to wardrobes, drawers, and the overall space!
What Is Better? Hanging Or Folding Baby Clothes?
There isn't a definitive answer as to the folding vs hanging baby clothes.
The truth is, that certain clothing items are better for hanging, and others are better for folding, and only you can decide which clothes to fold and hang, according to your preferences and needs.
Latest posts by Stephanie Creek
(see all)