Tie-dye can be such a fun and adventurous way to decorate your clothes during the summer, especially the plain whites you've got. Or if you've got some whites that well, can't be classed as white anymore and it's getting shameful trying to save them any longer.
Tie-dye can be a great way to fix them up into something brand new without the need to discard old pieces that can't be worn anymore.
We've heard of all the tricks to try and get those pesky stains out, lemon juice on the armpits, vinegar, baking soda. But maybe this time it's best to sit this one out and just have some fun.So, we've found you the most trendy tie-dye baby clothes for your little one to get you into the summer spirit and match with your baby!
There are so many tie-dye variations available that you may be spoilt for choice on what to treat your little one with. Better to be spoilt for choice than stuck in the mud right?
OUR TOP PICK
Baby One Piece MADE TO ORDER Gerber Onesies
EDITORS CHOICE
Tie-Dye Baby Onesie Spiral Handmade
BEST VALUE
Tie-Dye Galaxy Nebula & Alien Nebula Bodysuit
OUR TOP PICK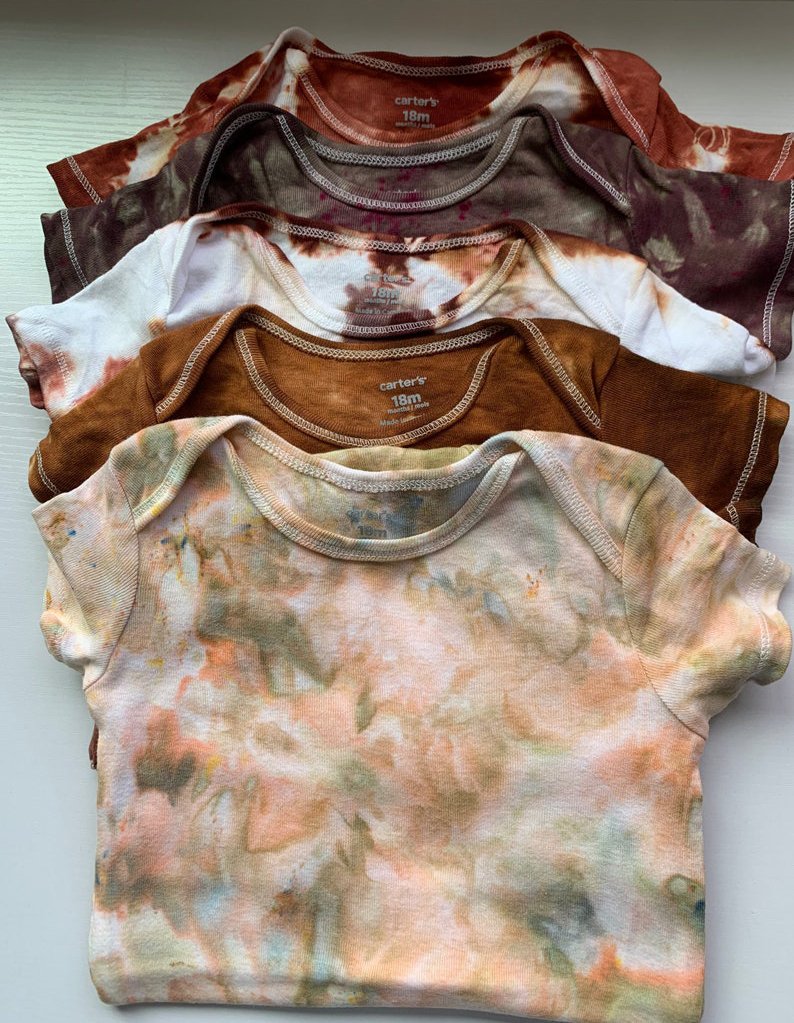 These hand-dyed baby onesies are the most adorable pieces and are a more subtle tie-dye experience than most!
The shades and colors have been kept neutral to suit those busy mums out there who want something fun to dress their baby in, but don't always want overbearing colors and patterns.
You get the best of both worlds with these onesies as they're fun and practical enough to get the job done. Also, they've been dyed in a mixture of shibori, and iced dye techniques to achieve unique shades. The onesies come in mushroom, golden brown, terracotta, multi tie-dye, and terracotta ice.
We tried a few out and whilst they weren't the standard bold tie-dye colors that we're used to seeing, they were fabulous alternatives and we were interested in the techniques used to achieve such unique patterns within the dye!
We highly recommend these onesies for your little one as they will last a long time in more than one department.
Pros
100 % Cotton – natural fabrics to protect your baby's skin all-day
Any color can be requested – easy communication with seller
Can be made in different sizes – inclusive for your baby
Cons
Delivery – May take a few weeks, however worth the wait
EDITORS CHOICE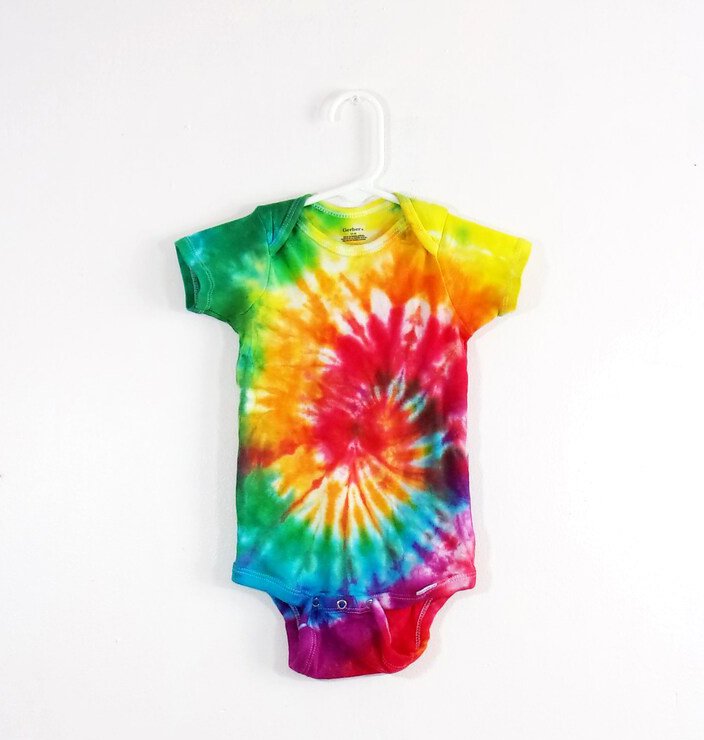 This beautifully dyed onesie is a classically dyed spiral piece that has been perfectly completed using the most traditional techniques for tie-dye.
It has a multicolored spiral placement in the center of the onesie that has been strategically placed to make a perfect spiral every time!
Your friends and family will be wondering where exactly did you get this spectacular onesie and how ca they get their hands on one themselves! We were wondering that so we got our hands on one and we just fell in love with how well made it is.
The seller is skilled in the area and certainly knows exactly what they're doing to get that perfect spiral. We were impressed. The seller also offers custom onesies to be made so if you've got some color preferences in mind, feel free to ask away because you can get exactly the colors you want with this baby onesie.
And the material is so soft and delicate on the baby's skin to protect the little one head-to-toe. This really is the onesie of their dreams!
Pros
100% cotton – stretchy and soft
Preshrunk – Still fits after the first wash
Fade-resistant – Over 100 washes
Non-Toxic – Babies could chew on it even
Free delivery! – and fast delivery
Cons
No returns – or exchanges
BEST VALUE
This galaxy-inspired unisex bodysuit for babies is just off the charts with how creatively made it is!
We were entranced and just had to try one out so off to the nieces and nephews to dress them up we went, and they loved it even more than we did!
This onesie bodysuit comes in sizes 0-3 months, all the way up to 18 months old so is 100% inclusive to all baby sizes!
This bodysuit is just so magical, who wouldn't want to dress their baby up to be inspired by alien nebula? They make great gifts for mum to help her out with baby clothes and would be a show stopper at a baby shower, you would have brought the best gift out there and everyone will be gushing over how precious this bodysuit is.
The artwork on the onesie is so well executed and your baby can be your new shining star of the galaxy.
Dharma dye has been used to hand-make these bodysuits and cotton materials only have been used so your baby's skin can be protected to the max.
Pros
Pre-washed – and ready to wear
Hand made – from home
One of a kind – unique pattern for every bodysuit
Cons
Must wash with care – cold wash only and hang to dry
RUNNER UP
Are you a parent who has always wanted to match with their little one for the workday? Try these handmade tie-dye dungarees and get yourself a matching pair so you and your child can pair up all day long!
They're robust, so you know they're going to last for a long time and they're hours of fun because of the playful tie-dye design implemented into the clothing.
And your little one can run, and scream, and play for hours in these dungarees and you can rest assured knowing that they are securely fitted to their little bodies.
They also have pockets and if we get excited over pockets, your child will too! More space for toys! We had to try one out and one of our co-worker's nephews loved them, he felt like his daddy at work and he even got given some matching tools and a toolbox to feel like his parent!
Don't miss out on this opportunity and get your little one this delightful gift that will brighten not only your day but their day too!
The overalls also come in custom choices so you can choose between shorts overalls, or long pants overalls to suit you and your little one's preferences.
Pros
Fiber reactive dye – cotton overalls
Dress or pants available – for a little girl or boy
High-quality standard – well made
Cons
Production time – allow up to two weeks
RUNNER UP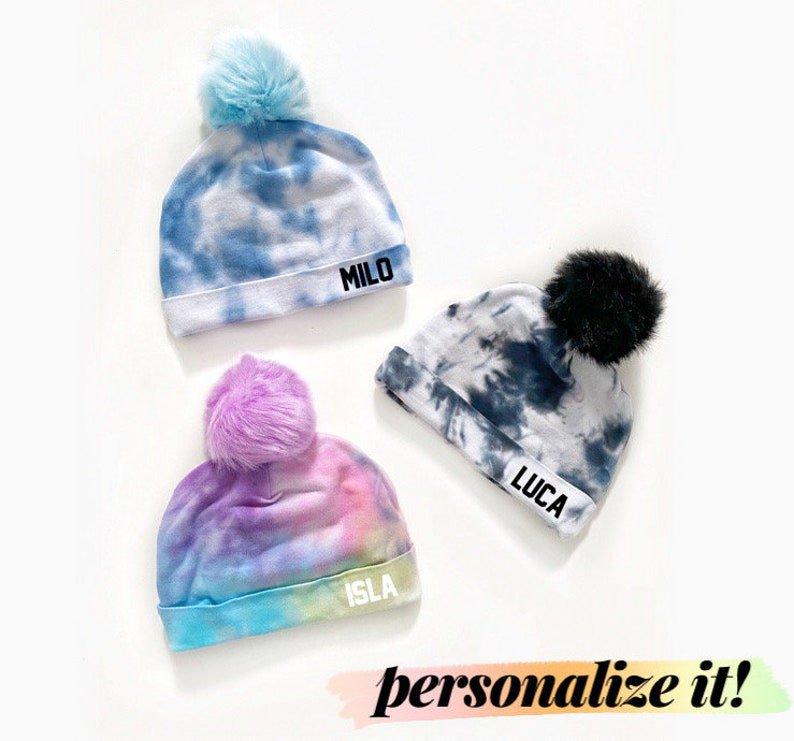 Get your mittens on these personalizable tie-dye faux fur pom hats to style up your little one's winter wardrobe whilst keeping them warm and cozy this year.
They come in a few different color and pattern variations so you can be spoilt for choice on which would be perfect for your little one, or you can be like us and get them all!
We wanted to be sure which was our favorite as we couldn't decide and they were all so beautifully made it was almost impossible!
Our favorite was the colorful one though because we let the little girl we gifted the hat, choose for us.They make for great gifts for any child and mum to help her out with the cost of winter clothing, and your little one can look fabulous!
And the pom-pom on the top of the hats was so adorable and matched perfectly with the colors in the hats themselves.
The tie-dye was out of this world in quality as we couldn't understand how they can be made so well from home!
Pros
Can be personalized – colors and personalization available
Hand-dyed – 100% cotton fabrics used
Fits babies 9 months and under – to keep them warm
Cons
Shipping – May be expensive based on location
RUNNER UP
This may be the most diverse tie-dye pajama set we've found yet and it comes in a spiral of color variations to suit your little one's personal preferences if they have any.
They're not only comfortable, but also stylish and perfect for baby's, infants, toddlers, juniors, and even teens!
It's easy-care so all you have to do is machine wash in cold water and tumble dry! They never shrink and are 100% wrinkle-free.
The set is made from 95% rayon, and 5% spandex for optimum comfort sensations all night long.
They also make for the trendiest pajama party clothes that all your little one's friends will be excited and mesmerized by how the spirals work. We gifted a set to one of our family members for their children and they loved them so much, children love colors and fun and spirals so this gift made perfect sense and we were as happy as they were to see them laughing and playing in them.
Pros
100% cotton materials – for comfort
Easy to take care of – wash and dry as you would anything else
Fun! – multicolored pajamas
Cons
Be sure fits snug – loose garments more likely to catch fire
Trendy Tie Dye Baby Clothes For Your Little One – FAQ's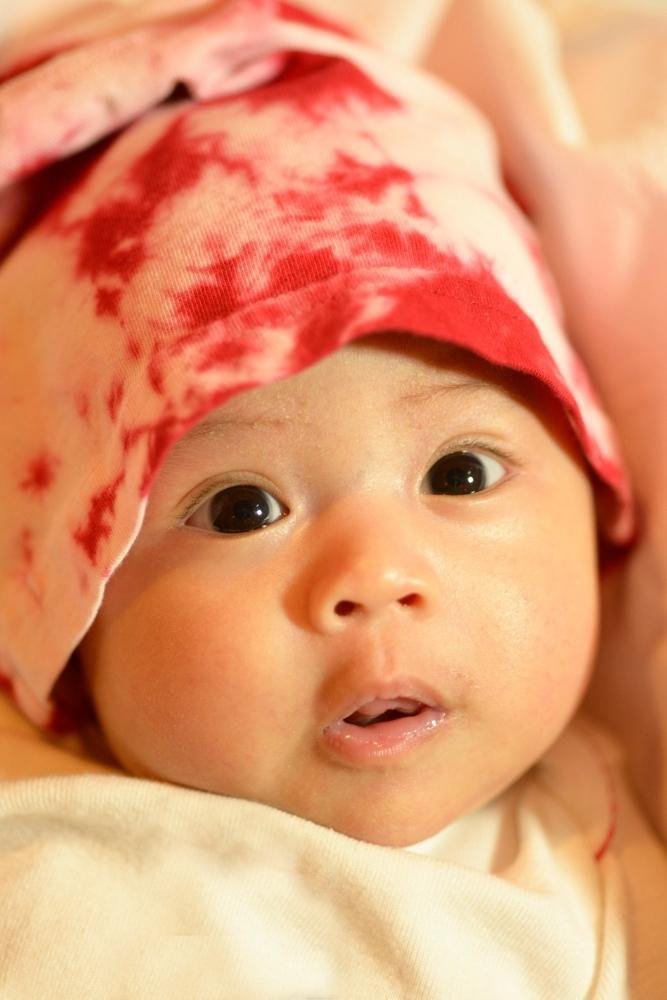 Is It Safe To Dye Baby Clothes?
100% yes! As long as the dye has been set properly and any excess dye or products have been fully washed out, you can rest assured knowing that your baby's skin is safe and protected against harsh chemicals.
Is Tie-Dye For Baby Clothes Trendy?
Yes, tie-dye comes in and out of style regularly because of how diverse and playful the colors and techniques used are.
Every summer, tie-dye sales increase because it's always associated with summer and playfulness, so feel free to get creative with it all year round.
Latest posts by Stephanie Creek
(see all)