Finding clothes that fit your child can be a struggle.
Every child is unique and individual, so what may fit on one child may not fit another. A child's weight and size can differ depending on their age and sex – and sometimes, they don't even fit into their age's usual size!
This can lead to a lot of parents and guardians wasting money on clothes that their child either does not fit into or outgrow in a matter of days.
This can be so frustrating as you will find yourself constantly shopping and shifting through piles of unused clothes, looking for receipts or handing them off as gifts.
If you want to find the right sized clothes for your child, then we have made a handy guide that compares the US child's size to the equivalent height and weight.
This way, you can measure your child and find the right clothes for them based on their actual height and weight and not just their age.
Not all kids are the same size at the same age, so use the information down below to find clothes that fit your child comfortably and will not go to waste.
Babies And Toddlers
Babies and toddlers are the worst when it comes to outgrowing their clothes. After all, they grow so much in such a little space of time!
Because of this reason, most baby clothing is sized by their age in months. You may find baby clothing with any number of months on the label, but not all newborns are born the same size.
Therefore you have to look at the weight and height measurements that should also be on the label.
Each brand and store varies what they class as a size so it is worth measuring your baby and looking for clothes that meet those measurements – even if it means dressing your newborn in clothes designed for a 3 month old.
On average, the sizing for babies and toddler clothes goes like so:
Newborn clothes are generally designed for babies that weigh between 2-8 pounds and are 17-19 inches tall.
3 months size clothes are for babies that weigh between 9-11 pounds and are 19-23 inches tall.
6 months size clothes are for babies that weigh between 12-15 pounds and are 24-26 inches tall.
9 months size clothes are for babies that weigh between 16-18 pounds and are 27-28 inches tall.
12 months size clothes (sometimes labelled as 1 year) are for toddlers that weigh between 19-20 pounds and are 29-30 inch tall.
18 months size clothes are for toddlers that weigh between 21-23 pounds and are 31-33 inch tall.
24 months size clothes (sometimes labelled as 2 years) are for toddlers that weigh between 24-28 pounds and are 33-35 inches tall.
For toddlers' clothing, you may see labels with 2T or even 6T as the 'T' stands for toddler. 2T is equivalent to 24 months, but other sizes like 6T is not equivalent to a 6 year old child.
This is because 6T clothes are designed with more room for diapers, so they still fit comfortably on a toddler who is very tall instead of a 6 year old who no longer wears a diaper.
Young Kids
When it comes to kids clothes, male and female clothes are still grouped together until they hit around 7 years of age. Between the ages of 3-6, they will be sized the same:
4 years sized clothing is designed for kids of both sexes that weigh around 37-41 pounds and are 42-44 inches tall.
5 years sized clothing is for kids that weigh around 42-46 pounds and are 45-47 inches tall.
6 years sized clothing is for kids that weigh between 47-53 pounds and are 48-49 inches tall.
After this, kids' clothing becomes split by gender and switches to a more conventional sizing system that you see with adults.
Girls And Boys Sizes
Once a kid hits around 8 years old, the sizing system on their clothes changes to become more complex. More dimensions are added such as chest and waist measurements to help fit kids better as they grow into teenagers.
Because of this, the sizes become very different from store to store – and as all teenagers experience puberty differently and will grow at different rates.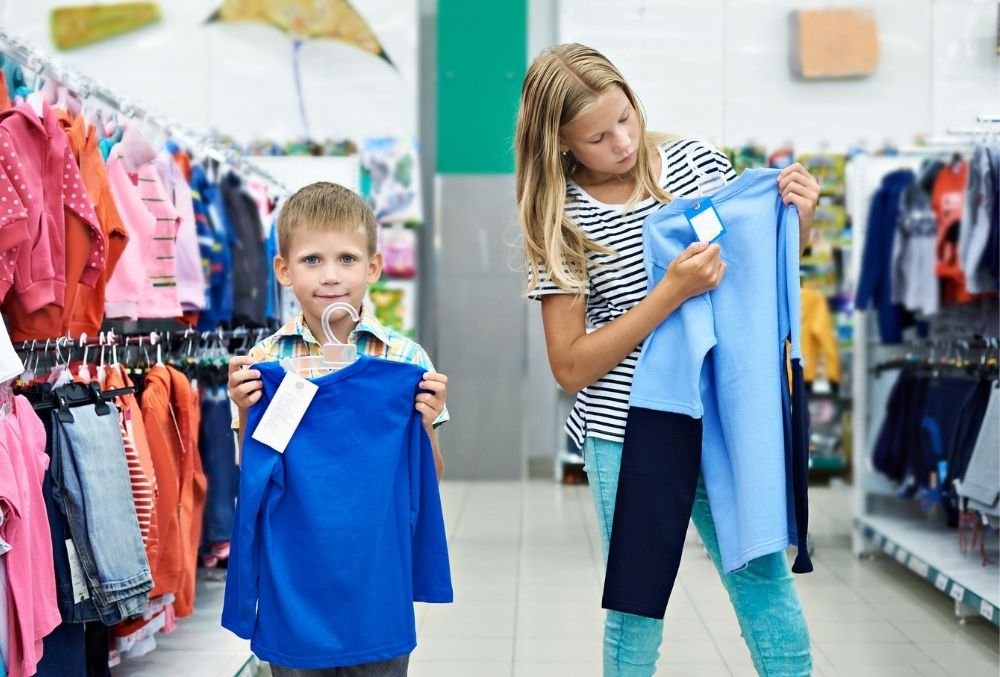 This can be really confusing and frustrating for you because what one store measures as a large could be considered as a medium in another store. Also, your twelve year old could be sitting into clothes that are labelled for a different age.
All we can recommend is that you measure your child and take them with you while you are shopping. By now, they will also be beginning to have their own tastes and styles so they can choose their own clothing.
Go by the measurements instead of the size labels, and always try the clothing on if there are facilities available in the store.
Once your teenager reaches 16 years of age, this is generally when they switch over to the adult sizing system but they can always start out younger or later.
Frequently Asked Questions
Why Are Babies And Toddlers Sized By Months?
It can sound pretentious sometimes when a parent refers to their 2 year old as '24 months' – but there is a perfectly valid reason why clothes are sized in months when children are so young.
This is done because babies and toddlers grow and develop so quickly in such a short time period that even at a few months apart, a 12 month old and an 18 month old are very different when it comes to development.
To say that they are the same as they are both 1 years old, is like saying that a 13 year old and a 18 year old have the same emotional development because they are both teenagers.
There is a huge gap between a 13 year old and an 18 year old in terms of growth, and the same can be said for toddlers and babies under 2 years old.
My Child Measures As Different Ages For Their T-shirts And Pants – Is That Normal?
Absolutely! It can be the exact same with adults – you could be one size for the top half of your body, but a different size for the lower half.
You may find that your 4 year old fits t-shirts and sweaters for their age group, but needs 6 year old sized pants because their legs are so long. This is normal and part of their individual growth.
The size chart is only there as a general guide, and does not have to be strictly followed. Measure your kids and find the right size clothes for them – even if it's smaller or larger than their age's average.
Conclusion
And that is the basics when it comes to clothing sizes for children! We hope this guide and information has helped you when it comes to finding the right sized clothing for your kids.
Remember that the sizes are only a general estimate and you should go by your child's measurements to get a better fit.
With that said, happy shopping!
Latest posts by Stephanie Creek
(see all)