Leggings are a super versatile item of clothing that are perfect for a variety of situations.
If you're an expecting or new parent, you might be wondering: Can boys wear leggings?
In this article I will cover some key information about boys wearing leggings, including whether boys can wear leggings and factors to consider when choosing leggings.
Let's get into it.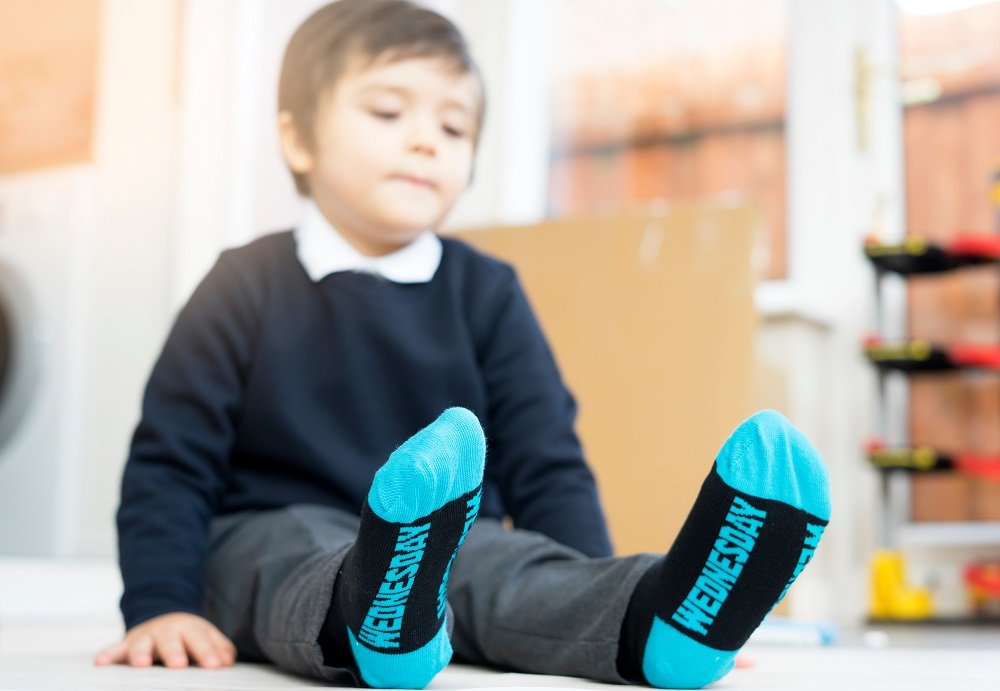 Can Boys Wear Leggings?
Of course boys can wear leggings! What you dress your child in is completely up to you and dependent on what your child feels the most comfortable in. This question itself is an example of the gender binaries that are still very much prevalent in today's society.
That being said, degendering clothing is important, as who is to say what is right and wrong for boys and girls to wear just because of their gender? We are often bombarded with the "Menswear" and "Womenswear" binary and gender stereotypes are imprinted into children from a young age.
However, society is slowly moving forward, and no one should tell you what you can and cannot dress your son in just because of his gender. Ultimately, it is your choice to decide what you feel comfortable dressing your child in, and this will largely be affected by what they feel comfortable wearing.
Listen to your child when they express their opinion, but until they can understand and communicate their opinion, it's up to you to dress them in whichever way you see fit provided that they are warm enough.
So, what makes leggings a wardrobe staple?
A great thing about leggings is how comfortable they can be, as opposed to more structured pants that can be uncomfortable for your child after longer periods of time. You've got to remember that very young children are used to wearing onesies, so wearing big, bulky clothes as they get older can be a shock to the system.
Leggings are a happy medium between sweatpants and pants. You can dress them up, or wear them lounging around the house, the options are truly endless!
They are incredibly comfortable and soft, and are also super easy to take on and off. This is what makes getting your child dressed in the morning more convenient, as well as the countless diaper changes you'll be making throughout the day whilst they are still young.
In addition to this, leggings are great when your child is a toddler, especially when it comes to potty training. This comes down to the fact that they are super easy for your child to pull up and down themselves, teaching them to become more independent throughout the potty training process.
Leggings are highly versatile, and can be worn in a variety of different circumstances.
Provided that your child is warm enough just wearing leggings, there is absolutely no reason to suggest that boys shouldn't wear them.
On those winter days that are particularly cold, you can even use leggings under their regular clothing to provide them with an extra layer of warmth at your discretion. On particularly snowy or cold occasions, it's likely that they'll be in a snowsuit or something similar to ensure that they are protected from the elements anyway.
Bearing all of these factors in mind, you might decide that leggings make the perfect item of clothing for a variety of different occasions.
The most important thing to take into account when you're dressing your child is their comfort and warmth. If they are comfortable and warm enough in a pair of leggings, then there shouldn't be any reason why you should think twice about dressing them in such a versatile clothing item! Don't let anyone tell you otherwise.
Factors To Consider When Purchasing Leggings
There are a variety of factors that you should consider when choosing leggings. However, it primarily comes down to the:
Quality
One of the most important factors to take into consideration when purchasing your child leggings is the quality.
Whichever leggings you choose, you need to make sure that they are of good quality and can withstand being frequently washed. After all, kids manage to get messy wherever they go, whether it's from mud, spills, or simply their dinner!
A good assurance of quality is to find a reputable brand. Reliable brands have years of experience under their belts, and have thousands of loyal customers that can testify to the quality of their products.
To ensure that you're buying a good quality pair of leggings, you should also check the product reviews section. In this section, customers can leave good and bad feedback on their experience of the product, how it wears, and whether they would recommend it.
Material
You will also need to consider the material of the leggings to ensure that they are as comfortable as possible for your child.
Leggings tend to be made of materials such as cotton, spandex, and jersey fabrics. For children, leggings made of cotton fabric tend to be the most comfortable choice, as they are super soft and highly absorbent.
Organic cotton is a great choice for babies in particular, as this type of cotton is grown without chemicals and fertilizers.
Whichever fabric you choose, make sure that it is of high quality and is soft against your child's skin.
Size
You will also need to consider the size of the leggings. Which size that you choose will depend on the age bracket that your child is in.
The US size chart for baby clothes below refers to your baby's weight and height.
Baby Clothes Size Chart
Newborn – 4-8 lbs, 17-19"
3 months – 9-11 lbs, 19-23"
6 months – 12-15 lbs, 24-26"
9 months – 16-18 lbs, 27-28"
12 months – 19-20 lbs, 29-30"
18 months – 21-23 lbs, 31-32"
24 months – 24-28 lbs, 33-35"
The same applies to the US toddlers size chart, only the T stands for Toddler.
Toddler Size Chart
2t – 24-28 lbs, 33-35"
3t – 28.5-32 lbs, 36-38.5"
4t – 33-36 lbs, 39-41"
That being said, kids grow incredibly quickly! If you know that your child is going to prefer a more relaxed fit as opposed to a tighter fit, you can always choose a size up from their normal size.
This will give your child the breathing room to grow into their leggings and will mean that they last in their wardrobe for a longer period of time.
Care Instructions
When purchasing a pair of leggings, you will also need to consider the care instructions. Regardless of the circumstances, life with kids can get messy very quickly, and you'll want to find a pair of leggings that you find easy to clean.
Whether you opt for leggings that are easy to chuck in the washing machine or that are hand wash only is entirely up to you and your preference.
However, it's important to check beforehand, as you don't want to be in a situation where you end up with a pair that can only be hand washed and don't have the time to clean them. This comes down to the fact that your son just won't get the use out of them.
The easier they are to clean, the more convenient it will be for your child to wear them, meaning that they'll get more wear out of your purchase.
While a lot of clothes are machine washable, it truly depends on the material that the leggings are made out of. Bearing this in mind, you will always want to check beforehand.
Color
Another factor that you'll need to consider is the color of the leggings. Leggings come in a wide variety of colors and patterns.
While neutral, block colors are great for incorporating into your child's wardrobe as they go with so many different pieces of clothing, there's nothing to stop you getting bright colored leggings, too!
It's likely that you have an idea on the type of colors that will compliment your child's wardrobe, but that doesn't mean you can't experiment with a few funky colored patterns when choosing their leggings.
You can also take your child's favorite colors into consideration when choosing his leggings. After all, they can become fussier as they get older with what they wear, so allowing him to choose might save a few tantrums down the road!
Frequently Asked Questions
What Leggings Are Best for Boys?
There are a variety of different leggings available for boys and girls from a variety of different shops such as H&M, Target, and Amazon!
Whether the product is marketed towards boys or girls, your child's comfort should be your main priority.
In Summary
Of course boys can wear leggings! What you dress your son in is your decision and depends on what they feel comfortable in.
That being said, leggings are a highly versatile item of clothing to keep in your son's wardrobe and are perfect for a variety of occasions.
Although the world imprints gender stereotypes onto children from a young age, it's important to teach them that not everyone has to fit into that binary.
Have fun styling leggings!
Latest posts by Stephanie Creek
(see all)